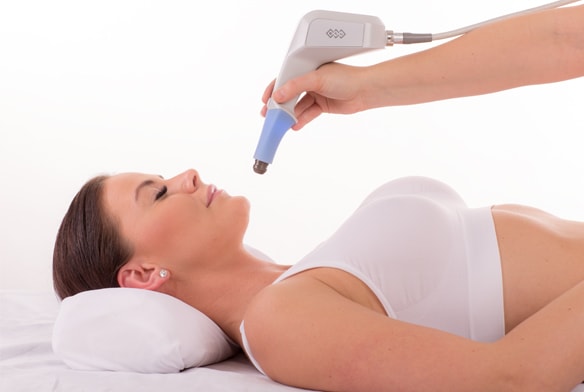 Exilis Ultra 360 Face is the first and only non-invasive treatment that utilizes high powered ultrasound and RF energy to give superior facial skin tightening, contouring and wrinkle reduction. 
The ultrasound element allows the unit's RF energy to heat the tissue faster, easier and more effectively. 
Due to the combination of these two energies, the results of the treatments are far more superior, consistent, safe and comfortable.
Suitable to be done on eyes, double chin and neck. 
The Exilis Ultra 360 Face treatment uses heat to stimulate collagen production to produce a smoother and firmer look and feel to the skin.  
During the treatment, a hand piece is guided over the treatment area. You will feel a warm sensation as the heat energy is delivered to the targeted depth of penetration in the deeper layers of skin. The device engages the cooling system to protect the upper skin layers as it constantly monitors the skin's temperature. Together, the deep heating and superficial cooling make for a comfortable, even treatment, avoiding the extreme hot or intensely cold spots.

How soon can I see results?
Patients can see visible improvements even after the second treatment session; however, it is common to see improvements up to 6 months later. 
For skin tightening, the recommended number of treatments is between 2 to 4 sessions.
Treatments are usually scheduled 1-2 weeks apart