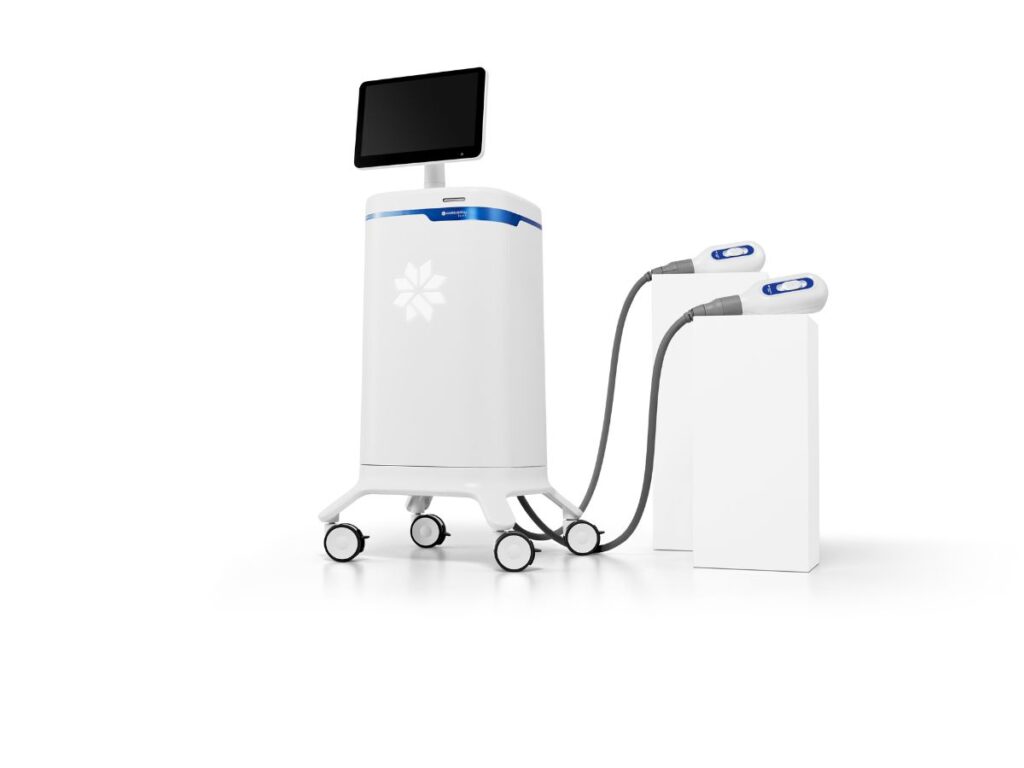 BODY CONTOURING WITH FAT-FREEZE – COOLSCULPTING ELITE
CoolSculpting Elite, an FDA-cleared treatment is a non-invasive and non-surgical treatment aimed at reducing fat in targeted areas of the body. The procedure also known as cryolipolysis or fat freezing uses cooling technology to selectively target fat bulges and eliminate fat cells permanently through a gradual process that does not harm the surrounding tissues. This procedure can reduce unwanted abdominal fat, love handles (flanks), and back fat.
For time-starved individuals, Calvin Chan Aesthetics offers up to 4 treatments with the use of two elite machines at the same time to greatly reduce treatment time.
Who Is Suited For This Treatment?
Ideal candidates for the CoolSculpting procedure are relatively fit, but have some modest-size fat bulges that are not easily reduced through diet and exercise. They are seeking spot reduction for specific areas of fat, but are not considering a surgical procedure. The CoolSculpting procedure is not intended for weight loss or obesity, and it is not a substitute for invasive methods such as liposuction.
Coolsculpting is more commonly used to treat areas such as the "muffin top", post pregnancy pooch, love handles for men, back fat for women, saddle bags and fat on the arms and thighs of men and women. We carry a range of applicators to treat your different concerns.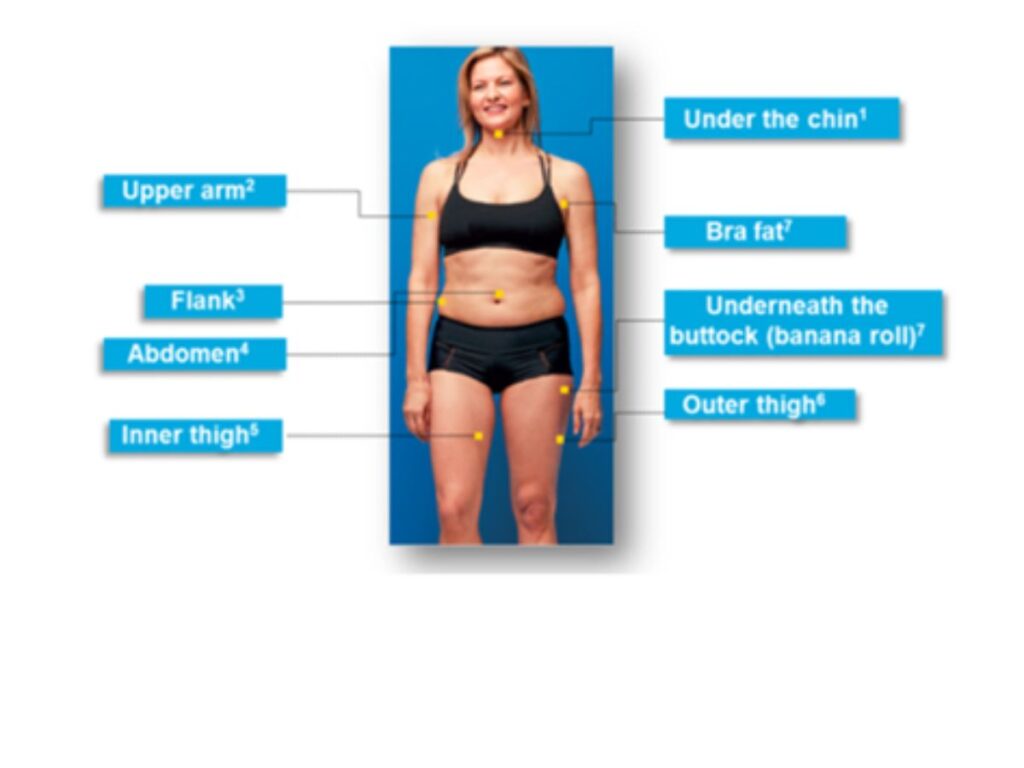 How Long Does Each Treatment Take?
Each treatment will take approximately 35 Min.
At Calvin Chan Aesthetics, CoolSculpting is done only by our certified and trained therapists who will do a 360 degree assessment to determine the treatment plan that is tailored to your needs. Together, you'll look at your whole body from different angles—and then focus on specific areas where you want to eliminate fat. Every patient is unique and each of our CoolSculpting treatment plan is customized to suit our patient's needs and concerns.
You can read a book, surf the Internet, or even take a nap during treatment!
The CoolSculpting procedure is non-invasive with no needles and no need for surgical incisions. During the procedure, a gel pad and non-invasive applicator is applied to the skin surface to deliver precise controlled cooling to target and eliminate fat cells in specific areas of the body. The applicator will gently draw the bulge up between two cooling panels and the sensation is a firm pull with an intense cold in the first few minutes. Treated fat cells are crystallized (frozen) then gradually die off and leave the body through the body's natural elimination process. That's why the results are long-term. Untreated areas will have no change in fat cell distribution.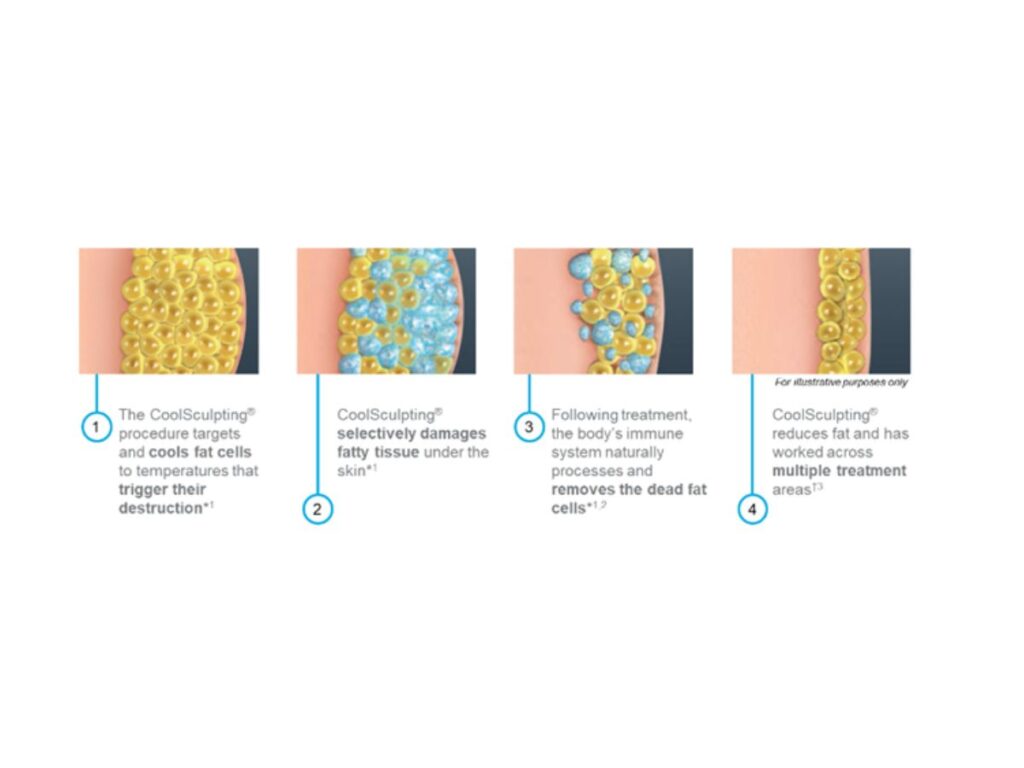 Is There Any Pain Or Downtime?
You may experience some tenderness in the areas treated but that will resolve over time. The CoolSculpting procedure is completely non-invasive, which makes returning to normal activities afterwards a typically easy process. Often, patients even return to work after their CoolSculpting treatment is over.
What Results Should I Expect?
Clinical studies demonstrate that the CoolSculpting procedure provides noticeable, measurable fat reduction in properly selected patients over the course of 2 to 4 months after the procedure. Additional procedures may be administered 2 to 4 months after the initial procedure to achieve greater fat reduction. CoolSculpting® has demonstrated fat layer reductions, across multiple treatment areas, of up to 27% at 6 months.
How Long Do The Results Last?
Patients experiencing fat layer reduction show persistent results at least 6 months after the CoolSculpting treatment. Longer-term studies have not yet been completed. It is known that the exposure to cooling causes the fat cells to begin a process of natural removal, which gradually reduces the thickness of the fat layer. The fat cells in the treated area are gently eliminated through the body's normal metabolism process, like fat from food. The elimination of fat cells as a result of the Coolsculpting Procedure is expected to last about as long as fat cells removed by invasive procedures, such as liposuction.