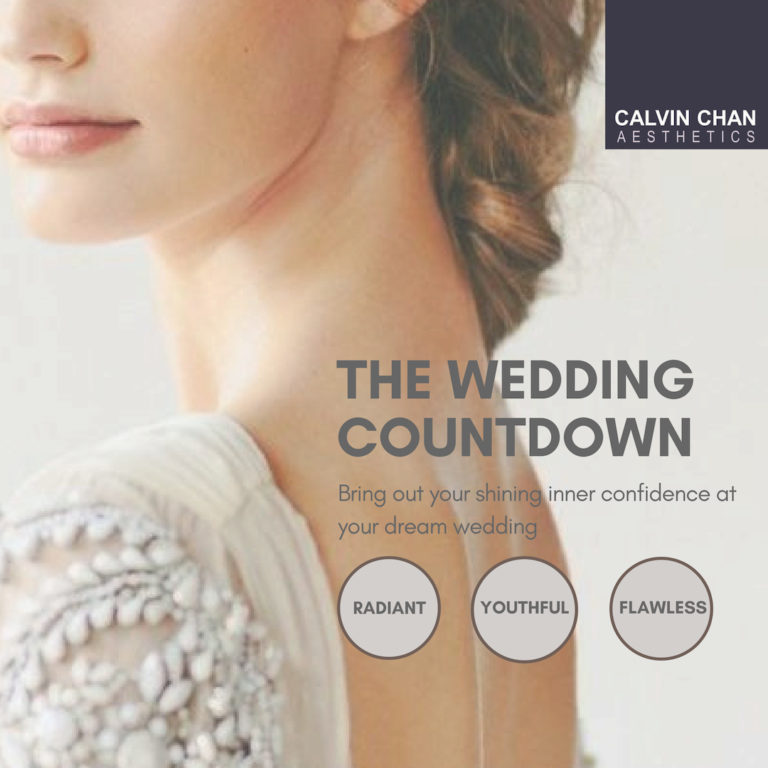 Your Bridal Beauty Countdown With Calvin Chan Aesthetics
A comprehensive guide to having you look your very best on the big day
You are one step closer to your Big Day and we know how excited you must be. While the dress is definitely crucial in the making of your dream wedding, so is the bridal make up. 
Below, find your bridal beauty countdown – what you need to plan in advance, what to prepare in the run-up and the last-minute touches for the day itself.
"Aisles Ahead Pore-fection" – 3 monthly sessions of ENLIGHTEN Signature Facial
It's never too early to start your wedding skincare prep. Allow a minimum of six to twelve months' lead time for regular facials, having a treatment every four weeks. Facials are beneficial because they deeply cleanse the skin, boost circulation, are hydrating and help to bring skin to its natural balance. It also helps make-up to set in better.
"Wedding Bliss Glow" – Glow Facial + Ultra V-lift + RF Youthful Eyes Treament
In the week before your wedding, don't introduce any new products to your skincare regime – continue with the tried-and-tested products you know work for your skin type – and avoid aggressive treatments such as peels and lasers which could cause a reaction. But rather choose treatments that can improve blood circulation and facilitate skin regeneration.
 "Happily Ever After" (6 monthly sessions of VelaShape + 6 Sexy Back + Hair Removal)
The stress of planning your wedding may be taking a toll on you and it seems to take more effort to shed those stubborn extra inches for perfectly fitting into that dream gown. 
Besides your body shape, do remember to exfoliate your back, especially if you are wearing a bare-back dress. The back treatments will help exfoliate your back, lighten the scars, to keep your back smooth, flawless and acne free.
Try the latest painless permanent hair removal which works in continuous motion to efficiently and comprehensively target larger areas and gradually heat and kill hair follicles to reduce and limit regrowth while leaving surrounding skin undamaged. 
"Perfectly Groomed" – Alpha Male Facial
Alpha Male Facial is the ultimate deep cleansing, pore purging treatment designed with the male skin in mind. It targets normal to oily skin with uneven texture and congestion. Using advanced LED blue light therapy to soothe irritated skin from constant shaving, the treatment combines a cocktail of ingredients infused into the deeper layers of the skin to balance and hydrate the skin.
"My Bachelorette Party" – Luxe Facial + Keratin Eyelash Lift
My Bachelorette Party is a great idea for a special get-together with friends and loved ones. Whether it is to energize, rejuvenate, beautify or all of that while you party and have fun. It's our pleasure to help you organise a memorable bachelorette party to remember the good times.
"Mother Glows Best" – Complete Perfection Facial + RF Face
Moms need some pre-wedding pampering and what better way to get some mom-daughter bonding time before the big day. Why not impress and invite your new mom (mother-in-law) too for this treatment that will leave them looking refresh, rejuvenated and youthful.