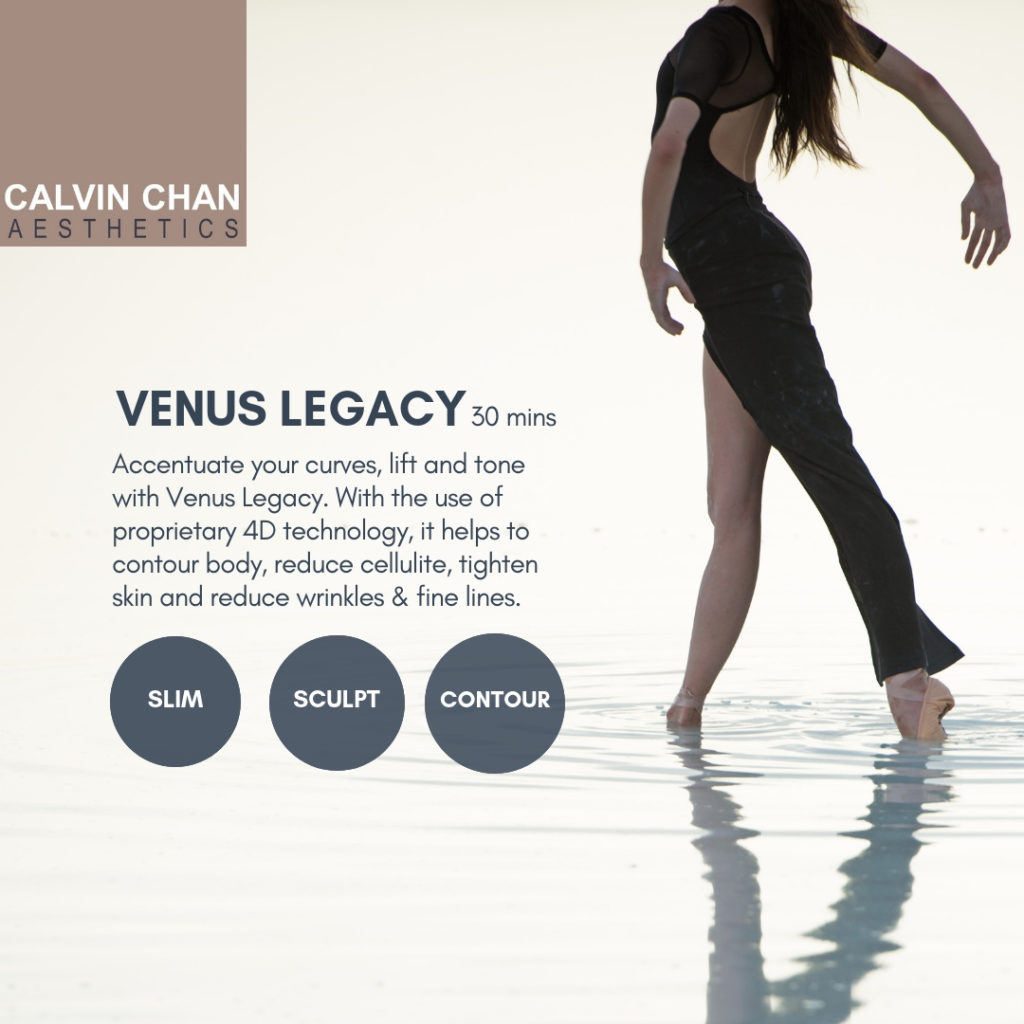 Get the body you've always wanted with Venus Legacy Body Slimming.
Utilizing proprietary 4D technology, this treatment helps to slim, sculpt and contour the body.
The technology can be applied to many different parts of the body such as the abdomen, love handles, back, hips and thighs.
The Venus Legacy firms and tightens the targeted area, to result in improvement in skin texture and fine lines. While at the same time, it burns fat to result in circumferential reduction. 
How does Venus Legacy work?
Venus Legacy powered by proprietary (MP)2 technology with the synergistic combination of Multi-Polar Radio Frequency (RF) and Pulsed Electro Magnetic Fields (PEMF) are equipped with novel VariPulse™ technology, which makes them most effective for body contouring and cellulite reduction.
Radio frequency when applied to the skin produces a uniform thermal reaction beneath the skin at a targeted depth within the tissue. This stimulates the body's natural collagen production process. With each treatment, the Venus Legacy works to increase collagen and elastin fibre production over the treated areas. This helps to tighten, lift and improve the textural quality of the skin.
In addition, the thermal energy generated from the Venus Legacy treatment targets fat cells. This helps to contour and slim targeted areas through desired circumferential reduction.
The patented Venus Legacy Vari- pulse technology creates a gentle massage and suction effect. This action gently pulls the skin upwards toward the applicator head to allow for deeper penetration of the radio frequency energy into the skin. This mechanism enhances body contouring, helps to reduce cellulite and improves lymphatic drainage. 


How soon can I see results?
Most patients receive 6-8 treatments per area, with each session lasting around 30 minutes. Treatments are done once a week. The exact number will depend on each individual person and the area being treated.